UCONN
The H. Fred Simons African American Cultural Center - UConn Storrs
Sponsored by the UConn African American Cultural Center (AACC)
"When They Call You a Terrorist: A Black Lives Matter Dialogue with Patrisse Cullors
Artist, activist, educator, public speaker, and Los Angeles-native Patrisse Cullors is the Co-Founder of the Black Lives Matter Global Network and Founder of the Los Angeles-based grassroots organization Dignity and Power Now. Cullors' work for Black Lives Matter recently received recognition in TIME Magazine's 2020 100 Women of the Year project." RSVP Here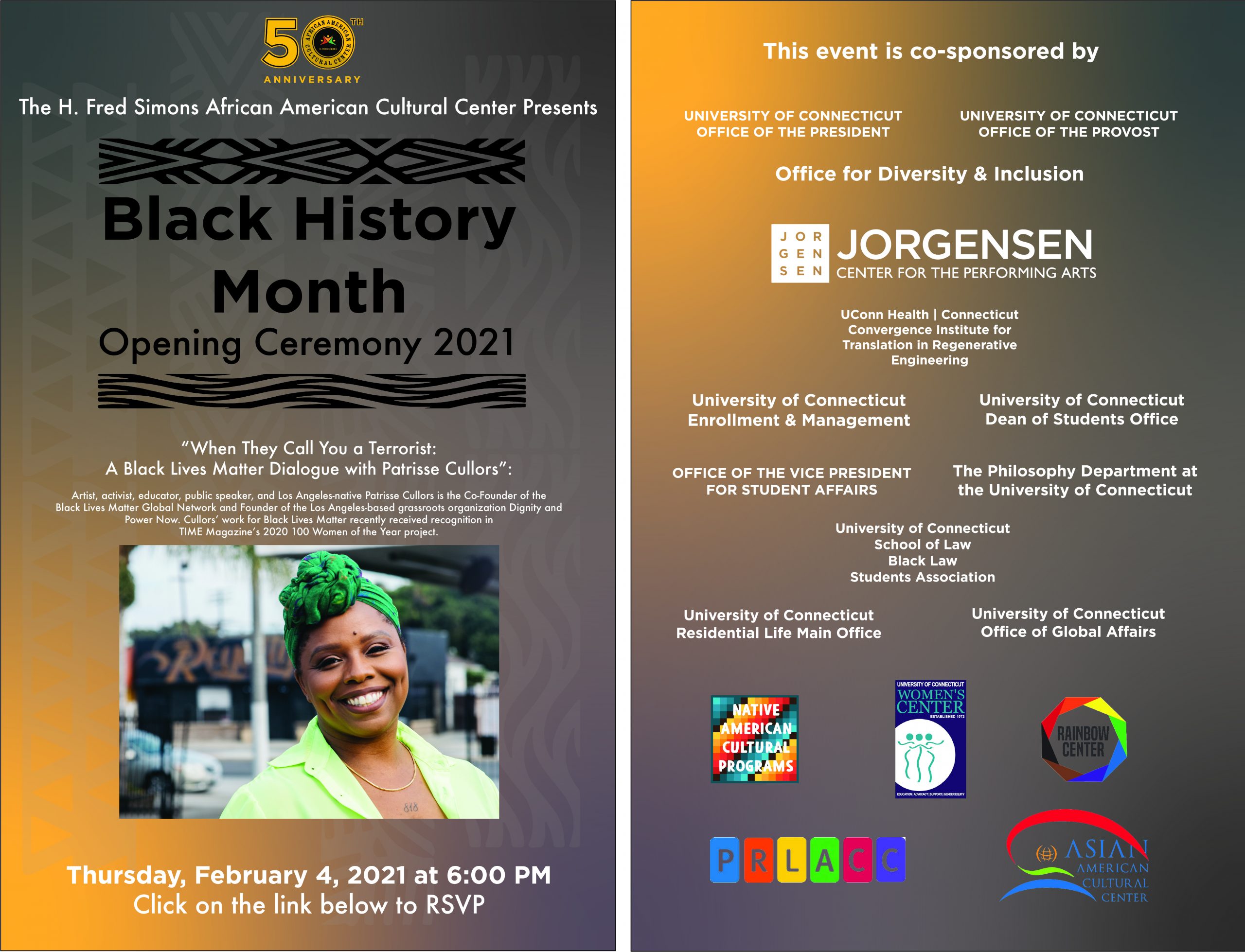 UCONN SCHOOL OF SOCIAL WORK - BLACK HISTORY 365 - Hartford Campus via Zoom (all Zoom information will be provided upon registration)
Tuesday, Feb. 2nd | 2:00pm - BHM365: Salvation: Black People and Love by Bell Hooks
In celebration of Black History Month, virtual meetings will be held to discuss Salvation: Black People and Love by bell hooks. Participants are asked to read 2 to 3 chapters before each session. Register at http://s.uconn.edu/BH365

Wednesday, Feb. 3rd | 6:00pm - Tilling the Soil: Black Farmers, Sustainability and Uplifting Community. Panelist, Dr. Tammy Gray -Steele, Founder/CEO of the National Women in Agriculture Association, Lauren LIttlel Urban Famer and Gergoe Roberts, 3rd Generation Farmer. Register.

Tuesday, Feb. 39th | 3:00pm -UConn Almuni - UConn Women & Philanthropy: ELLEvate: Paradigm for Parity- Fixing the corporate leadership gender gap. Please RSVP by February 8th.


UCONN UNDERGRADUATE STUDENT GOVERNMENT - JUSTICE NOW INITIATIVE
UCONN SCHOOL OF BUSINESS - EQUITY NOW - SPEAKER SERIES
EVENTS 2021
NYPL SCHOMBERG CENTER FOR RESEARCH IN BLACK CULTURE
Schomberg Center February Events. Online registration required. Books can be purchased online at the Schomburg Shop. All proceeds benefit The Schomberg Center for Research in Black Culture
Online Exhibitions:
Explore Subversion & The Art of Slavery Abolition
Explore Traveling While Black: A Century of Pleasure & Plain & Pilgrimages
UCONN DIGITAL MEDIA & DESIGN: 2021SPEAKER SERIES
"Amplifying Black Voices in Hollywood" on Friday, Feb. 19 from 1 to 8 p.m., via Jorgensen Digital Stage.
A focus on topics ranging from lack of Black representation on writing staffs to the distorted perspectives of TV crime dramas.
[UConn Today article]
UCONN STAMFORD - "FUTURE VISION: SUPPORTING BLACK EXCELLENCE"


The virtual panel will take place on Saturday, February 27, from 2-4pm. The event details, including registration link. Please feel free to share with those you think will be interested.
Future Vision: Supporting Black Excellence" will be a virtual panel with three Connecticut leaders from the corporate world, health care, and higher education:
· Dr. Katherine Golar, Chief Medical Officer for Optimus Health Care, Inc.
· Nadene Mckenzie-Reid, Board Vice Chair, Stamford Cradle to Career, and Deputy Head of Technology at NatWest Markets
· Dr. Franklin Tuitt, Ph.D, Vice President and Chief Diversity Officer for the University of Connecticut
BCALA - BLACK CAUCUS OF THE AMERICAN LIBRARY ASSOCIATION
February 5 and February 6, 2021. Black Health and Healing Virtual Summit.
BCALA is proud to partner with Queens Public Library for this FREE 24-hour virtual summit all about Black Health and Healing.
Register here: blackhealth.queenslibrary.org
National Museum of African American History & Culture
- Upcoming Events. Registration Recommended.
Join Yale University Library in partnership with MIT Libraries the week of February 22 - 26 for the BIPOC in the Built Virtual Wikipedia Edit-a-thon and learn about the origins of this campaign that started summer 2020 at MIT. Black, Indigenous, and People of Color (BIPOC) who have left their mark on the fields of art, architecture, art history, graphic design, activism, landscape architecture, urban planning, urban design, dance, and more connected to the built environment will have pages created and/or edited throughout the week. After a short introduction held live via Zoom on February 22nd, stay for the kick-off of our week-long virtual Wikipedia Edit-a-thon where attendees can participate in training and events that will build community around creating new and edit existing Wikipedia pages.